Giant Lottos Review
Giant Lottos launched their first website in 2007, making them one of the pioneers in the online lottery industry. Since selling their first tickets 15 years ago, Giant Lottos has gone on to become one of the most recognizable names in online lottery websites.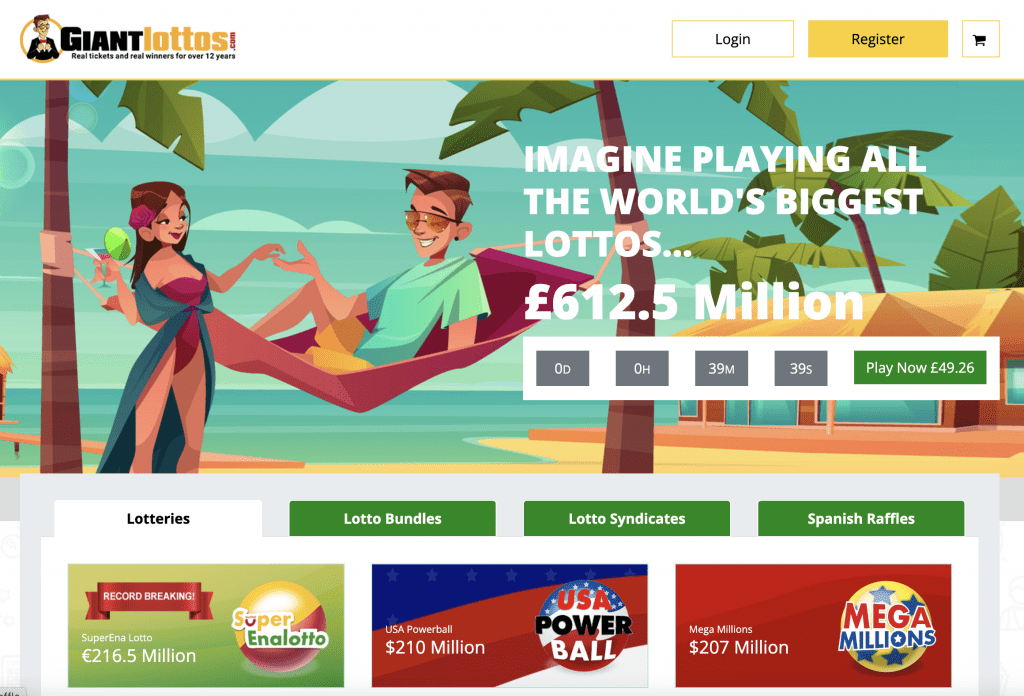 They currently offer lottery tickets to players around the world who may not be able to buy certain lottery tickets locally. For example, players from New Zealand will be able to get tickets for the American Powerball, and collect official payouts based on how many lucky numbers they have matched.
Let's have a look at what they currently provide players from around the world.
How Does The Giant Lottos Service Work?
Giant Lottos operate a proxy ticket service, which essentially means that they buy tickets on behalf of their players and pay out any winnings that are owed after the draws. Giant Lottos are known for purchasing real lottery tickets and paying out real prizes, whereas many other lottery websites only let you bet on the outcome of the draw.

This is a big plus for people looking to play in the actual lotteries.
Playing on the site is also very easy to understand. Just sign up, add funds to your account and you'll be able to play in any of the lotteries, syndicates or raffles. After that just enter your tickets into the draw and wait to see if you're a winner.
And if you may have any questions about how Giant Lottos works they have an extensive FAQ section on their website, or you can contact them via email. They do not currently have a live support team but they do usually respond to their emails in one working day.

The whole site is very user-friendly and easy to understand for people who may not be very familiar with playing the lottery online.
What Games Can You Play?
Giant Lottos have a selection of different games for players to choose from. At the time of writing they have lotteries and lottery syndicates, as well as Spanish raffles. Below are the lotteries currently available at Giant Lottos:
USA Powerball
EuroJackpot
EuroMillions
SuperEnaLotto
France Lotto
Irish Lotto
UK National Lottery
Mega Millions
Canada Lotto 6/49
German 6aus49
Mega Sena
Cash4Life
Compared to other online lottery websites Giant Lottos have a good selection of lotteries. They also introduce new games throughout the year.
There are also different lottery syndicates that let you purchase shares in tickets for big lottery like the USA Powerball, EuroMillions and Mega Millions. Lottery syndicates are different to normal lottery draws in that they allow you to pool resources with other lottery players and purchase more tickets than what you would normally be able to do by purchasing alone.
Giant Lottos also have a selection of annual Spanish raffles that you can play in. These raffles are different from lotteries in that you purchase a ticket with a predetermined number combination on it. These raffles often have much bigger jackpots and better odds of winning a prize. Giant Lottos are currently offering the following Spanish raffles:
Loteria Nacional Extra
Special Summer Raffle
El Gordo de Navidad
Giant Lottos also have a selection of lottery ticket bundles. These are great if you want to play in different lotteries with big combined jackpots. Below are some of the ticket bundles you can play now at Giant Lottos:
All Draw Bonanza – This is the biggest lottery ticket bundle at Giant Lottos. It includes 23 tickets played over 11 different lottery games. It also offers the biggest combined jackpot payout at Giant Lottos.
MegaPower Bundle – This bundle includes 5 tickets played in the USA Powerball and Mega Millions lotteries. This is great to play in two of America's best known lotteries in one purchase.
Euro Millionaires – This bundle includes 14 tickets played across 6 different European lotteries. This bundle includes tickets for all the European lotteries available at Giant Lottos.
From Where In The World Can I Play?
Giant Lottos are an online service, so a big part of their appeal is that you can play for lotteries that you may not find in the shops in your home country.
Their registration is open to most countries around the world with a few exceptions. This is due to the countries laws on lottery or gambling, or Giant Lottos have chosen not to operate in these countries currently.
Giant Lottos are not currently accepting registrations from the below territories:
United States of America
Russia
Australia
India
China
South Africa
If you'd like to find out if Giant Lottos is available in your country simply visit their site and see if you are able to register an account.
How Do I Collect My Winnings?
Collecting winnings from Giant Lottos is made to be a quick and easy process. The process is a bit different depending on the amount of winnings, but withdrawing winnings is much the same as other online lottery sites.
All winnings are confirmed via email after the lottery draw has taken place and the official results have been confirmed. Winnings are then automatically deposited into your online Giant Lottos account where you can request a withdrawal or play more tickets.
To start the process of withdrawing your winnings you need to send Giant Lottos a request to withdraw, after that they will begin the process which normally takes a few business days. After that your winnings will be transferred to your personal bank account.
For larger winnings players may need to send Giant Lottos a copy of their identity documents. This is done to prevent any kind of fraud.
How Easy Is It To Use Their Website?
If you're familiar with using the internet then you should have no problem navigating and using the Giant Lottos platform. Everything is very user friendly and simple to navigate.
For people less familiar with using the internet or playing the lottery, the look and feel of the Giant Lottos website is still rather easy to grasp. There are big, bold buttons which make it easy to see where players need to click to sign up, log into their account, buy tickets, check out the latest news stories and everything else on the site.
The latest jackpots are displayed on their homepage as well as their current promotional offer for any new players. There are also every one of their lotteries, raffles and syndicates on the homepage. At the bottom of the page you'll find all the latest news pertaining to the lottery around the world.
Using the Giant Lottos website is straightforward and easy, they are definitely on par with any other online lottery website that you can find online today.
What Do They Have To Help Players Win?
All lotto players want the best chances of winning, but Giant Lottos takes it one step further and gives all their players access to number selection technology which they claim gives you better odds of winning.
Their technology is called SUPA-QP and works by "With a click of a button, our new tech collates a decade worth of lottery information – not only draw data but also the winning strategies of our most successful multi lotto players across our platforms. The result? Giant Lottos customers now have exclusive use of a technology that is an online lottery, number picking game changer."
Players can use the SUPA-QP option when they pick their lucky numbers on their lotto tickets. The SUPA-QP number picking technology is available on all the lotteries at Giant Lottos, and is free to use for all their registered players.
What Offers Do They Have For New Players?
Giant Lottos have a few offers which are exclusive to their new players. These give new players bonuses and freebies, and gives them a good idea what it's like to play the lottery online.
There are a few different buy-1-get-1-free offers for new players. These are a great introduction to playing the lottery, picking lucky numbers and collecting winnings. There is another interesting offer for new players which allows you to play 10 tickets in different lotteries and claim a money-back guarantee if you don't win any prizes.
Giant Lottos regularly introduce new offers for their new players. These include freebies like bonus funds, free shares or tickets and various money-back guarantees.
Overall Giant Lottos have a good selection of promotions for new players, which are a nice way to give an idea of how their platform works and to make their first win. You can check out their latest offer for new players on their homepage.
Safety And Security At GiantLottos
Because Giant Lottos deal with financial transactions, such as payment processing and winnings deposits, they use various safety measures to keep player's information safe.
First off, Giant Lottos are Cloudflare 256-bit encryption certified. Cloudflare is known as one of the biggest cyber security companies on the planet.
Giant Lottos are also fully PCI (Payment Card Industry) compliant. This means that their systems are secure, and they meet all credit card industry technical and operational standards. PCI checks are carried out monthly to ensure that compliance is maintained.
Overall it looks like Giant Lottos have a robust security system, and there have never been any reports of hacks or client information being stolen.
What Do Their Players Say?
What better way to get a good idea of a company's service than listening to what their customers have to say? Below are what Giant Lottos players and winners have said about their experience:
"Being able to play in American lotteries from the U.K is why I signed up at Giant Lottos. I've been a customer for five years and wouldn't play anywhere else."
Mr. Mike H – Brighton, UK
"I've always wanted to play the US Powerball and thanks to Giant Lottos I can get my tickets online from my home in the U.K"
Ms. Angela T – Maidstone, UK
I'm really impressed with the way Giant Lottos handled my win payout. I am still in shock about it. Thank you, Giant!
Mr. Jerry M. – Elizabeth Bay, FR
Should I Play At Giant Lottos?
The entire experience at Giant Lottos is simple yet efficient. Playing any of the games is straightforward and easy to understand, even for players new to the lottery.
They have a good selection of lotteries and syndicates for games from America and Europe. There are also shares available for different Spanish raffles.
They have robust, industry-standard security measures in place so you don't need to worry about your data or credit card information being stolen.
The bottom line at Giant Lottos is that it is a great place to play the lottery online, and the team behind the brand have gone out of their way to create and manage a leading platform for lotto.
Good
GiantLottos is a great service for new and experienced lottery players alike.
Usability and User Experience
9
PROS
A wide selection of lotteries and raffles
The best introductory lottery offers currently available
Over 10 years of industry
The latest safety and security features
Great and fast customer service
New promotions weekly
SUPA-QP technology to help you win winning numbers
CONS
Big payouts take a few days to process
Is not available in the US, China, and Australia
Jackpot winners may be required to pay taxes