Who are the 7 Biggest UK EuroMillions Lottery Winners?
Winning a lottery is a dream come true for everyone but only few can claim to be the lucky ones! It's so rewarding to scoop such a massive amount of money for such a little investment which is buying a lottery ticket. But some people struck the best luck ever and became the biggest lottery winners! Who are they?
We already covered the biggest lottery winners in the world in our previous article. This time we decided to look at our European friends in UK where EuroMillions is the biggest and most popular lottery game.
The jackpot of EuroMillions is a magnet for all lottery players throughout the Europe and UK is no exception. The jackpot starts at £14 million and can go up to around £200 million before it has to be won. You can find out more about the EuroMillions jackpots in this article.
So let's dive in and let's find out who were the biggest UK Lottery winners and their incredible stories.
1. EuroMillions – £195 million (Anonymous)
The biggest ever UK's EuroMillions Jackpot was won on 19 July 2022. Unfortunately the winner remained anonymous so we'll never know who's the lucky person.
2. EuroMillions – £184 million (Joe and Jess Thwaite)
The UK's 2nd biggest ever EuroMillions lottery winners were a couple from Gloucester who scooped record breaking prize of £184 million with a lucky dip ticket.
The incredible jackpot was won on 10th May 2022 and the winning numbers were 3, 25, 27, 28, 29, and Lucky Star combinations 4 and 9.
Even after realising that they won such a life changing amount of money, they still carried on with their daily routine as normal and went back to work.
Joe, a communications sales engineer, bought the winning Lucky Dip ticket just hours before the draw after he saw the massive jackpot. He said he never had any luck of winning in the past.
When he found out about the news early in the morning after checking his emails, he didn't even wake his wife up. He just waited for her to wake up to break the amazing news!
Jess said that her father was a regular lottery player but he had not luck his whole life until he died. They often talked about what would they do with all the money if they won. So it wasn't so hard for her to figure out what to do with such a huge amount of money!
The couple said the win would give them "time to share lots of experiences and go on adventures with our family and friends".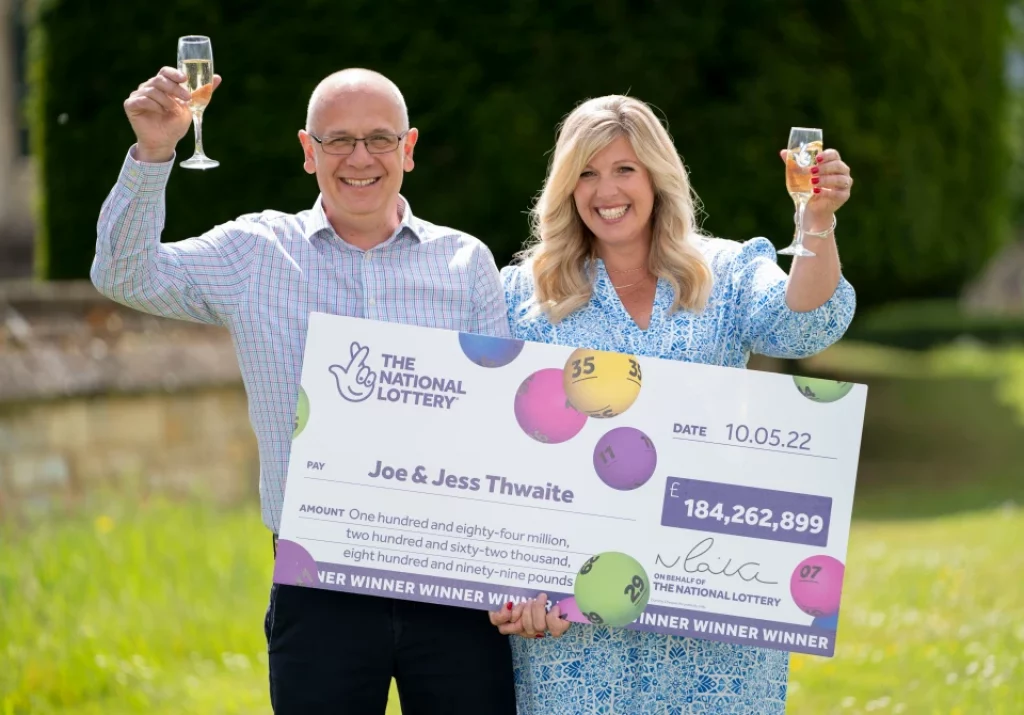 3. EuroMillions – £170 million (anonymous)
The 3rd record-breaking prize was won on October 8, 2019, with the numbers 7, 10, 15, 44, 49, and Lucky Star combinations 3 and 12. This lucky ticket holder has won the UK's most fabulous lottery jackpot of £170 million, equivalent to €190 million. This person has preferred to stay anonymous up to date.
The winner is now worth more than some bigshots, including singer Adele and actress Rachel Weisz.
4. EuroMillions – £161.6 million (Christine and Colin Weir)
Christine and Colin Weir became two of Scotland's wealthiest individuals overnight after winning the EuroMillions lottery on July 12, 2011. They've bought numerous mansions to replace their three-bedroom home in Largs since winning.
Knock House was the first, with an estimated cost of £850,000 – not including substantial restorations and enhancements, such as a new wine cellar. They purchased Frognal House, a £3.5 million estate with greenhouses and fountains, in 2013. A £1.5 million waterfront house was also added to Colin Weir's list.
They've put millions of dollars into Glasgow's Partick Thistle football team. Colin Weir is even a director for Three Black Cats, the company that is building the football club's new training facility.
Christine and Colin Weir have also formed the Weir Charitable Trust. They have donated millions of dollars to Scottish community groups and small charities by the charitable organization.
Christine and Colin Weir have also been involved in national politics. They're one of the most generous supporters of the Scottish National Party (SNP).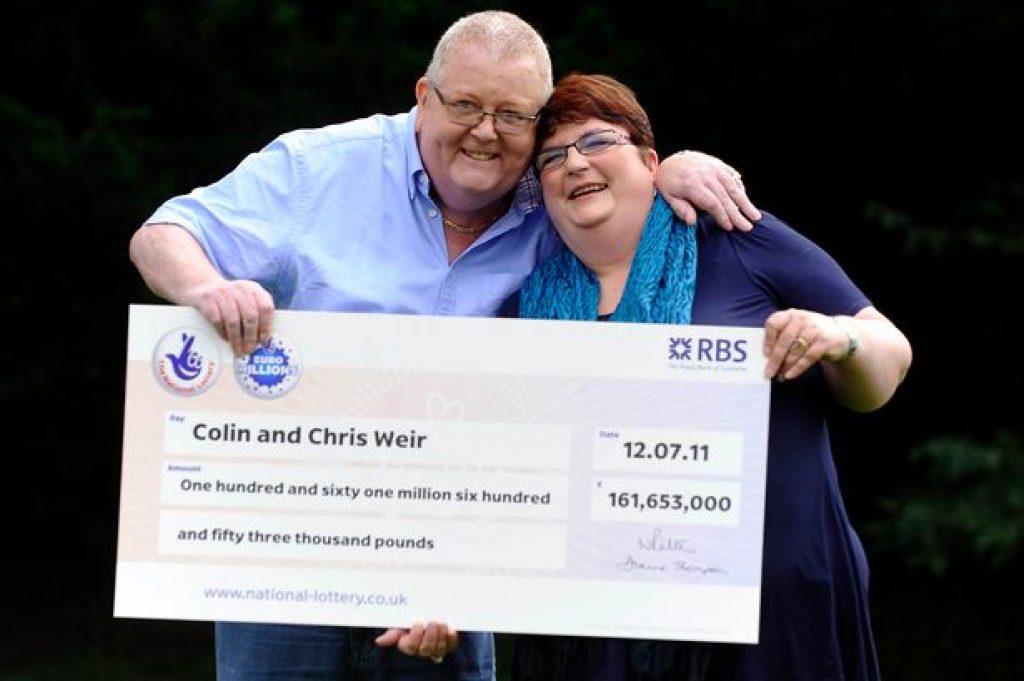 5. EuroMillions – £148 million (Adrian and Gillian Bayford) – 10 August 2012
The couple won £148million on the EuroMillions in 2012, but split just 15 months afterwards.
Adrian, a former postal worker, went back to work after he got bored at his £6 million mansion, which he later sold. He set up his own music business shop featuring largest collection of Lady Gaga.
He went through a lot and after the divorce he shared his winnings with several girlfriends who eventually dumped him. His home was also raided in a £100,000 burglary.
As for Gillian, she married convicted fraudster Brian Deans. Her father accused her of promising him £20 million but receiving only £1 million. Her life was shredded with lies and described as "total mess"!
As that was not that bad, the couple's son Cameron (13) fell into a comma after a quad bike accident where he was hit by a car driven by his older sister Aimee (15). Cameron was fighting for his life but is now on the road to recovery.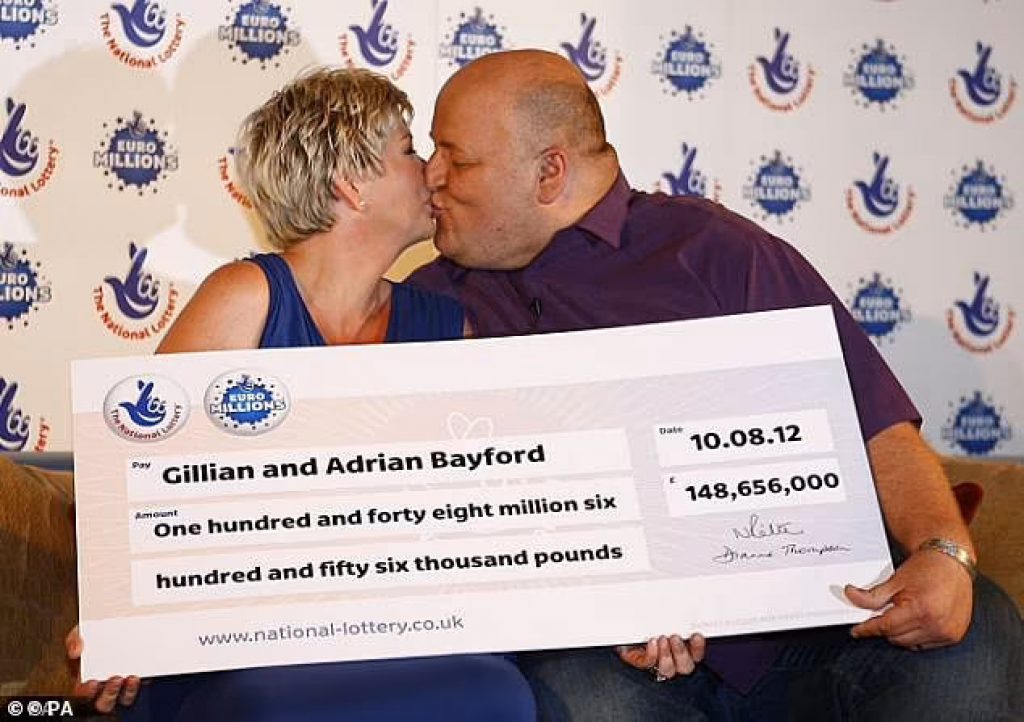 6. EuroMillions – £123 million (anonymous) – 11 June 2019
7. EuroMillions – £122 million (anonymous) – 2 April 2021
The biggest EuroMillions Jackpot Record is still at €220 Million
So far the biggest ever winner of EuroMillions lottery was a young woman from the Pacific island of Tahiti, where EuroMillions tickets are sold since it's part of French Polynesia so technically it's still Europe. This lucky woman scooped the biggest every prize of €220 million on 15th October 2021.
After the record breaking win, the jackpot cap moved up to €230 million.
Previous record holder was a Swiss player who scooped €210 million in February 2021. That was less than three months after a lucky player from the south of France won €200 million in December 2020.
In EuroMillions lottery game, the jackpot is always capped so we won't be able to see such a wild sums of money like in US PowerBall or US MegaMillions games where the jackpot can rise all the way to the moon.
Every time a jackpot limit is reached, it can stay at that sum for a maximum of five consecutive draws before it must be won. Once it is won, the cap increases by €10 million for the following jackpot cycle. This can continue until the cap gets to €250 million.


Biggest UK EuroMillions Lottery Winners