A lottery software to increase your odds of winning
Here we have another contender to be the next best lottery winning system but is it? Let's find out in our extensive review of SamLotto lottery system.
I know that everyone dreams to win the next lottery jackpot but for most people this is just a dream and will never become a reality. But maybe you don't need to wait for a magic for this to happen. All it takes is your effort, time, and proper analysis of how the lottery works for you to come up with a great strategy.
The good news is you don't need to do it all by yourself. There are some useful tools that can help you come up with a great number selection which could increase your chance of winning the lottery. And one of the tools you can try is the SamLotto.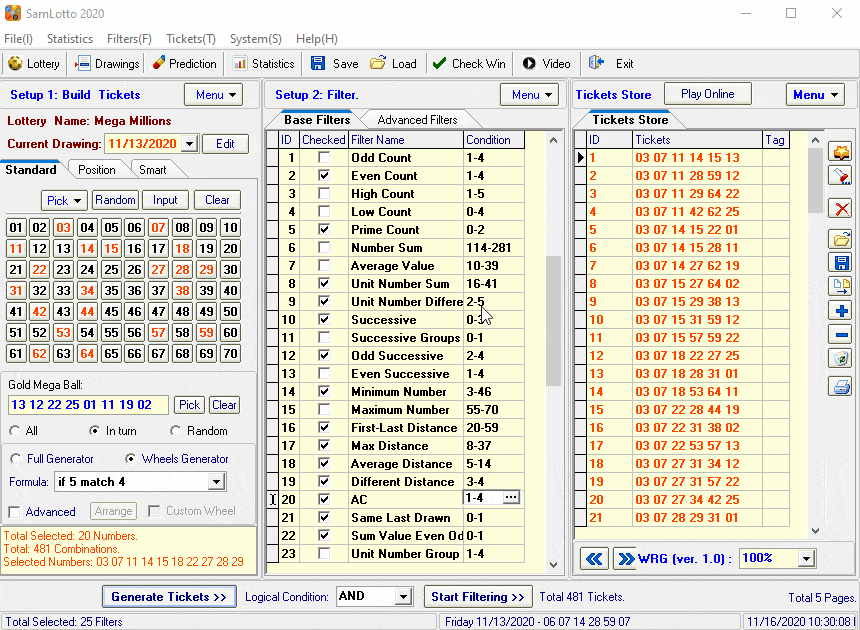 What is it
What is SamLotto
SamLotto was established in 2003 and since then helped many players with generating winning lottery combinations. It covers staggering 220 international lottery platforms.
SamLotto is a fully-featured lottery software that helps you generate numbers to improve your odds of winning. Its extensive options allow you to analyze, filter and use its predicting tools to help you select the right numbers with a higher probability to be picked in the next draw.
The software works for popular lotteries including Mega Millions, PowerBall, Canadian 649, Cash4Life, Euro Millions, Germany Lotto 649, Oz Lotto, UK Thunderball, Wednesday Lotto, etc.
On top of that, the creators behind this software offer another product called SamP3P4. This tools works for games like Pick 3/Daily 3/Cash 3 and Pick 4/Daily 4/Cash 4 lottery games. To be honest, I'm not sure why it's split from the original SamLotto software but one thing is sure, you have to pay extra money for this.
How it Works
How does SamLotto work
Lottery software like SamLotto can be a very useful tool for every lottery player, especially those who love to bet daily whenever there's a lottery draw. Its main function is to provide the number combinations with a higher chance of winning. But how does it work? How can it produce numbers and give you a chance to win?
For you to pick numbers and generate number combinations, you can compare past draw numbers. Then, you can insert these numbers to check how they will work once you use them. You can add more numbers in three modes. The software will process the data and will allow updating the results and exporting and importing.
In terms of filtering to come up with number combinations, SamLotto has many ways on how you can narrow down your options. SamLotto uses its proprietary formula to come up with useful predictions.
Features
Main Features and Tools
Since this software offers so many features, it may seem quite complicated to fully understand how it works. Here are some of the best features which you can use to help you increase your odds of winning.
Quick Pick Numbers
The SamLotto lottery software recognizes that the hot numbers have higher chances of winning than cold numbers. This is based on the frequency of winning. With a single click, you can generate a pool of numbers which contain hot and cold numbers from the historical data.
You can also input how many historical drawings to use to increase your chance of winning. This could be useful for example if the lottery was recently changed and extra balls added so you could eliminate the past draws with the old game format.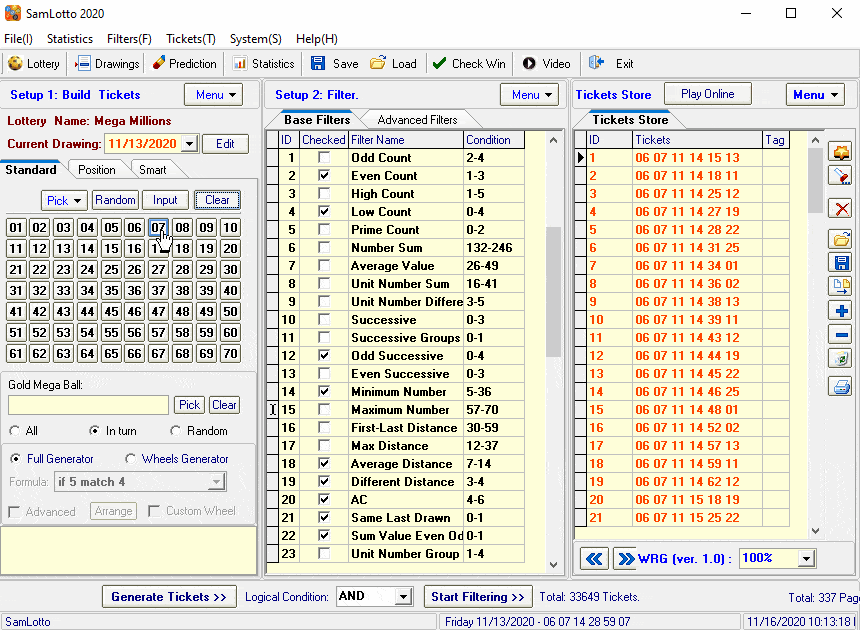 Generate Combinations Using Wheeling
This lottery software offers two ways for you to generate number combinations:
Generating full combinations (more numbers involved)
Generating combinations using wheeling system (picking from fewer numbers)
Lottery wheeling is one of the most common strategies used to secure winning if you pick only some of the numbers. You simply pick the numbers you wish to play, select the number of lines to play and then simply generate the combinations. Using this strategy can reduce your odds of winning by up to 95%. More info can be found on Wikipedia.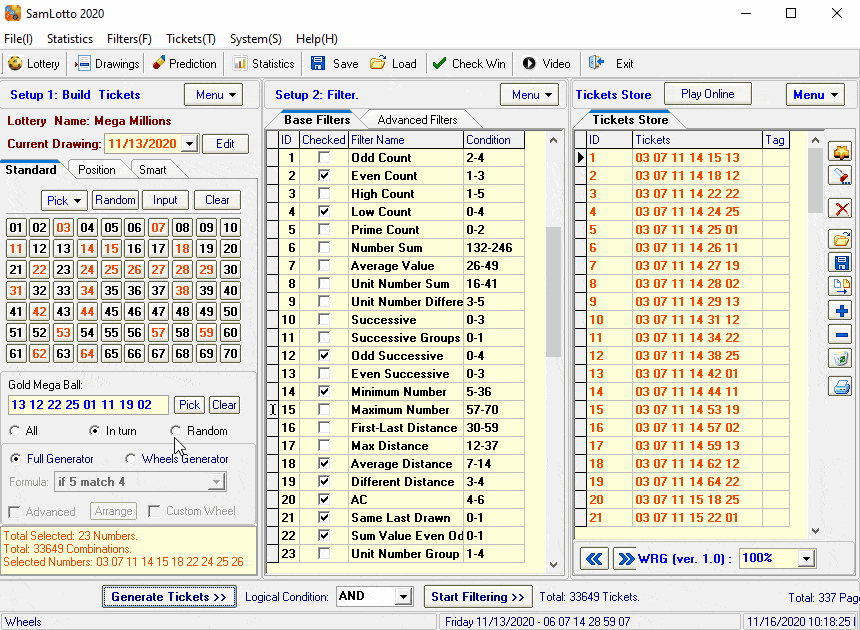 Filtering Methods
Filtering is one of the most effective ways to eliminate numbers and combinations which can give you lower chances of winning.
SamLotto has a lot of easy-to-use filtering methods to help you generate winning combinations. They have 50 basic filter methods, which is enough if you are just starting to use the software. And another 18 advanced filter methods if you want higher chances of winning but it's more complicated to understand.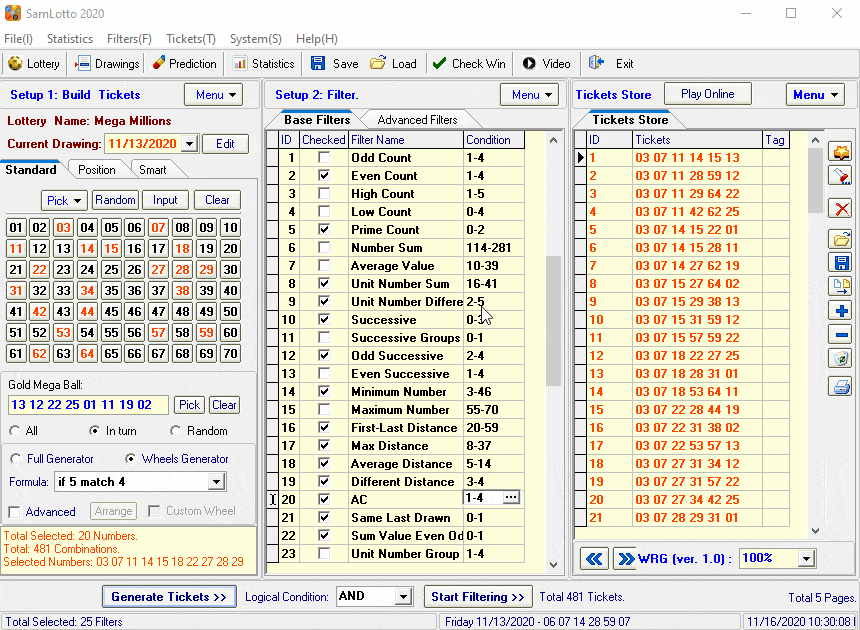 Analyze Previous Lottery Results
Another feature of SamLotto is analyzing previous winning results. This software can support up to 80 methods and graphs to help you analyze lottery winnings to come up with better strategies to win.
Some of the draws analysis which are available include analysis of odd/even numbers, high/low numbers, prime numbers, number sums, average value, hot/cold numbers, successive numbers and groups, and much more. The list is quite extensive and you can see all the features here.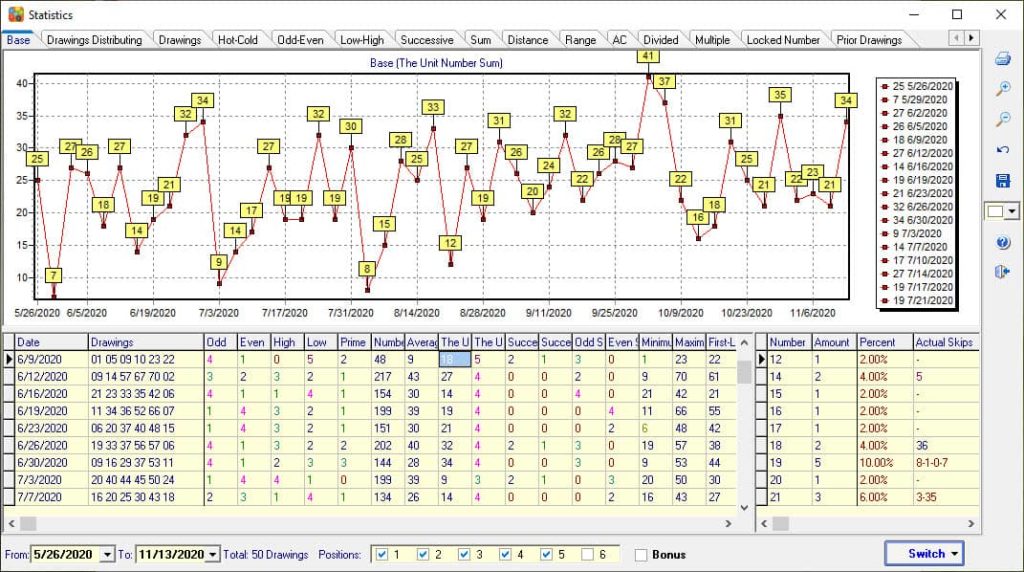 Prediction Methods
Probably the most desired feature of every proper lottery software is the ability to generate predictions for the next draw and SamLotto is not an exception. For some, it may be hard to believe how a lottery software knows the winning results. This software tries it by using various trend charts and regular winning patterns to spot the distribution of winning numbers. So it's not just simply a guessing game but it's all based on statistics and algorithmic procedures.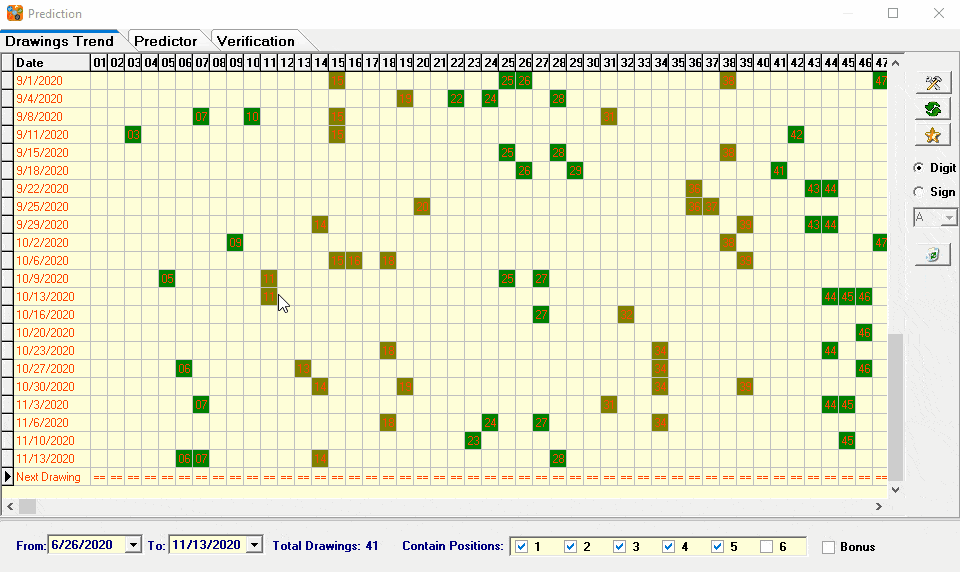 Free Draws Updates
This software offers free updates for over 300 lottery drawing results which is quite impressive! You can even create your custom lotteries (the ones not supported by this system) and manually import the draw results.
Usability and Accessibility
Usability and Accessibility
At a glance, the software seems complicated to understand. But the good thing is they provide a lot of useful guides and videos to help you use the program. In time, you will get used to it and it will be easier for you to navigate the program.
If you think the extensive features convinced you enough to use SamLotto as your lottery software of choice, I suggest you first download the free version and get familiar with it. Once you see the full benefits of this software and you think it could help you with your lottery games, you can purchase the paid version. One thing to mention – it's only available for Windows users.
Price
How much does it cost?
The software is free to download and use but comes with some limitations. If you want to use the full version, you will need to spend $169 which may put some people off. If you want to add the SamP3P4 program, that will be another $159. You can also buy both together with a discount price of $299.
While this may sound a lot, remember that this is a one-off purchase for a lifetime license. You won't have to pay for any updates or upgrades.
Customer Support
If you have any questions on how to use this software or encountered some issues, you can reach out to SamLotto via their website Contact's page. They claim to reply within 12 hours. But if you don't receive any word from them, you can check your spam emails or email them directly at support@samlotto.com.
Free Download
Download Free Versions of SamLotto and SamP3P4
SamLotto and SamP3P4 software programs support all 32 bit or 64 bit Windows computer systems including Windows XP, Vista, Windows 7, Windows 8, Windows 10, and Windows 11. You can install it on your PC, laptop, or surface.
You can download SamLotto and SamP3P4 for free here:
Final Thoughts
Is it worth buying it?
SamLotto is a very decent and professionally-looking lottery software and currently the best choice for any Windows-based lottery program. It has a huge list of features which also reflects the price tag. It doesn't guarantee you a win but it promises to improve your chances of winning.
If you are happy to spend some time learning how to use it, then we could definitely recommend this as a more advanced platform to help you with your lottery games.
If you don't have a Windows or can't be bothered to install a new software on your computer, then perhaps web-based solutions may be a better choice, like Beat Lottery online system.
Best Windows Software
Currently the best Windows based lottery software with extensive amount of lottery tools to help you generate winning combinations.
Ability to improve odds of winning
8.5
PROS
Number of tools and features
Supported lotteries
Help articles and videos
CONS
Only available for Windows
Pricey
Require some learning before being able to use properly
Add your review
|
Read reviews and comments